If you got a grand jury investigation target letter, you must pay careful attention to what you are about to read.
What this means is that the department of justice (DOJ) is currently investigating you for potential violations of federal law and that it concerns a serious violation.
Receiving a target letter (as it is commonly referred to) often begs the following question:
"Now what?"
What is a Target Letter?
A federal target letter means that there is a formal federal investigation on your past or current activities. This is sometimes referred to as a FBI target letter, and it essentially means that the government thinks you have broken the law at the federal level.
This is a good example of what a sample target letter looks like: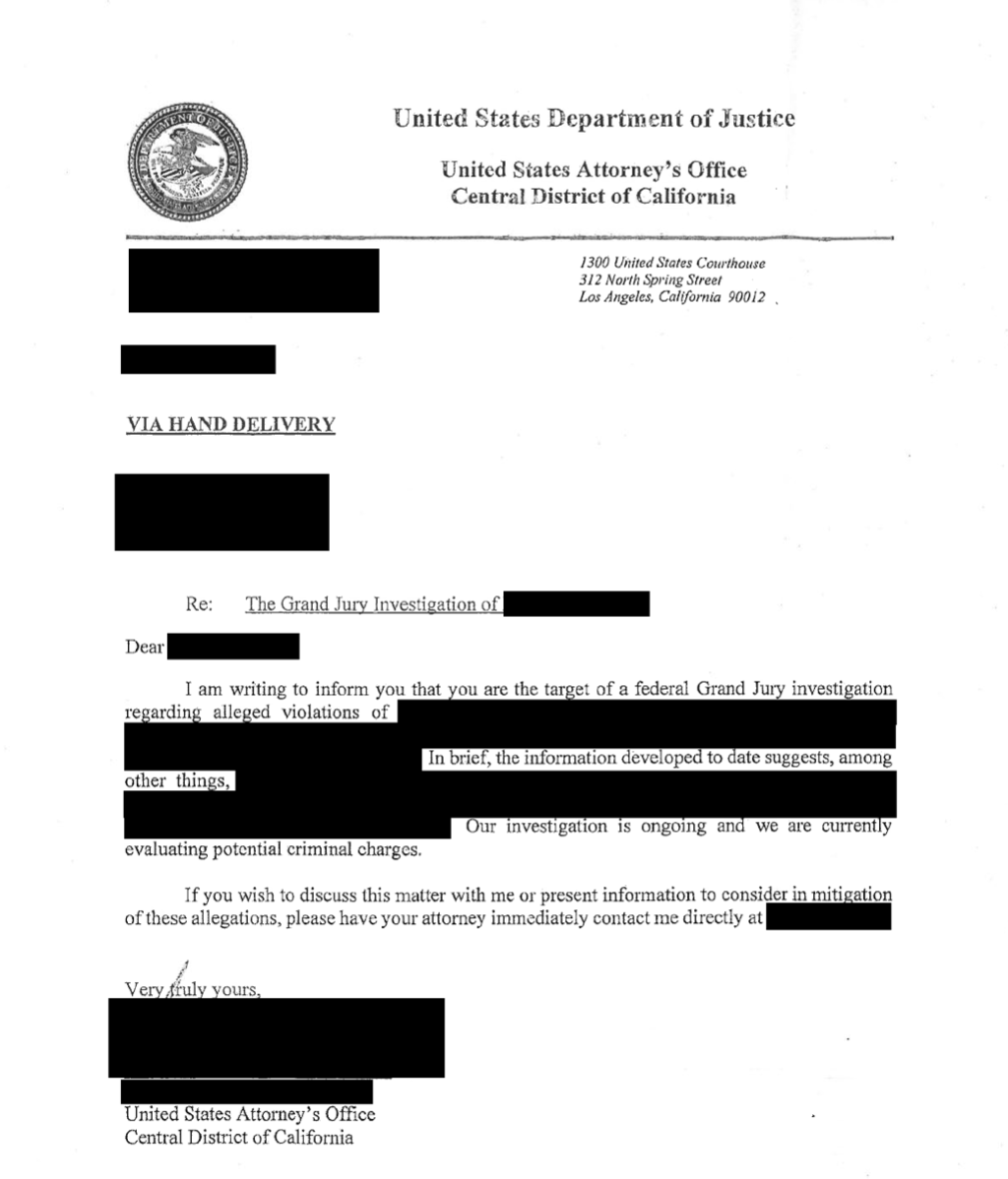 When you receive a target letter such as this from an FBI special agent or in the mail, it's time to consult with an attorney immediately.
The Federal Government & Criminal Investigations
Federal agents are responsible for conducting government investigations on behalf of federal authorities.
Types of Federal Criminal Charges
Federal criminal laws involving white-collar offenses, money laundering, narcotics, public corruption, counterfeit activities, organized crime, terrorism, and cyber crime are regularly investigated by the various federal agencies of the US government.
Other kinds of offenses investigated and prosecuted are: social security fraud, immigration fraud, environmental offenses, employment discrimination, trafficking contraband, interstate theft, medical kickbacks, weapons trafficking, and mail fraud.
If there is substantial evidence linking federal crimes to some illicit activity, it is likely that formal federal investigations will soon follow.
Prosecutors for the Federal Government & Federal Investigations
The Assistant US Attorney's offices (through the Department of Justice) are responsible for investigating, initiated, and prosecuting federal crime cases.
In 2021, over 9,000 defendants had federal charges filed against them in California alone. (Source: Justice Department Report)
It is their duty to determine of there is sufficient evidence to establish whether or not the conduct of the individual or organization has triggered federal level offenses. Shortly after making such a determination, agents that work with the prosecutor will send out the target letters to known participants in the investigated activity.
These target letters will be issued to defendants who will be charged, witnesses that are important to the case, and individuals who have not yet been determined what category they fall into.
Therefore, consulting with a federal defense lawyer as soon as possible is critical.
The Federal Grand Jury
The federal prosecutor will be responsible in many cases to initiate an evidentiary session through a grand jury investigation.
These sessions are not open to the public and conducted privately. News media will not have any knowledge that such meetings take place. The purpose of this is to preserve the evidence being presented to the grand jury for deliberation so that the investigation itself is not compromised.
How a Grand Jury is Conducted
A federal grand jury consists of twenty three persons who meet once a week on the same day to hear formal complaints.
When the federal prosecutor has issued target letters to you, the grand jury's investigation has likely already begun. This is the reason why it is highly advised to seek private defense counsel because grand jury proceedings have started.
Evidence is presented in an orderly fashion to the grand jury along with supporting affidavits that bolster the prosecutions case.
Along with actual exhibits, the grand jury often hears testimony from witnesses under oath that have been subpoenaed by the prosecutor to provide firsthand accounts related to the pending indictment. Because the witness testifies under oath, any untruth statements can subject them to perjury or obstruction of justice.
Grand Jury Witness Testimony
The AUSA (Prosecutor) will have issued several grand jury subpoena, conducted a session in the grand jury room, made at least one witness scheduled to appear, and have testimony provided under federal subpoena.
Ordered to give a truthful answer to any question asked by the prosecutor, the grand jury witness would be subject to a line of questioning that is necessarily limited to the possible violations being investigated. If it is discovered that the witness was altering documents in order to evade investigation, additional charges may result from that testimony.
Grand Jury Search Warrants & Subpoenas
It is common for there to be an executed search warrant for that witness or other custodians to produce records for inspection as well.
If the witness is themselves in danger of being prosecuted, they will be advised by their attorneys to invoke the fifth amendment so as to not incriminate themselves.
If you were named during this line of questioning, it is likely you will receive a target letter from the case agents assigned to the investigation.
Federal Defense Lawyer
A federal law office practitioners are not ordinary criminal defense lawyers.
They handle primarily (and often exclusively) federal cases that are focused mostly in white collar criminal defense and similar district court litigation.
White Collar Defense & Federal Law
White collar defense includes cases involving bank fraud, medical fraud, FCPA enforcement, political bribery or corruption, securities fraud (through the Securities Exchange Commission), customs enforcement violations, as well as sophisticated or organized criminal activity.
Because of the various charges that federal prosecutors can bring in a federal case, various federal defense lawyers will have very different ranges of experience.
Not all Federal Defense Lawyers are Equal
Where one federal defense attorney has handled countless narcotics trafficking cases, they may have not ever dealt with a political corruption client.
Similarly, some federal defense lawyers have conducted trials involving complex medical and insurance fraud charges but only a handful of low level money laundering cases.
The best way to determine whether the federal defense office you speak to is equipped to defense you is to inquire about their relative experience in their career.
Target Letters and Your Federal Defense Attorney
A federal criminal defense attorney whose litigation practice is devoted to federal criminal investigation is the only type of attorney that you should be consulting with after receiving a target letter.
Former AUSA Defense Lawyers
Many federal defense attorney practitioners will have been former federal prosecutors who had at one time worked at the very same office you are being investigated by. It is critical to know the extent of the case being built against you in order to determine the gravity of the charges and the evidence being used to indict you.
Your attorney will have a good idea as to your options once some due diligence has been done from your target letter.
Federal Lawyers: Experience with Proffer Session & Early Investigations
The best case scenario for a client is to consult with a federal criminal defense attorney who has extensive experience in handling complex proffer sessions.
Inside a Proffer Session
For clients who have limited culpability or who have been unnecessarily pulled into a federal investigation, these are informal meetings where the client would provide helpful background information for the case agents involved so that the assistant US attorney's office can get a more clear picture of who is and who isn't at fault.
Immunity from Prosecution
Instead of facing criminal charges, the client may obtain limited or full immunity in exchange for their cooperation.
But this advantage will only be given to those who find a federal law office and hire an attorney after they received a target letter during or after the grand jury's investigation.
The Time that is the Most Critical
In other words, the grand jury constitutes a significant step in formulating federal charges against you.
Therefore: It cannot be stressed enough that before criminal charges from the government are filed against you, there will be a small window of opportunity after you received a target letter.
What to do ASAP after you Received a Grand Jury Target Letter
Consult with an experienced federal defense attorney's office before any subsequent legal proceeding has begun.
A grand jury has already been provided substantial evidence of a federal violation and now is the moment to get ahead of the issue. Once the prosecution issue target letters directed at you, it may be too late.
Have You Received a Target Letter?
Our office provides a free consultation.
Federal target letters are no small matter. The grand jury process gives you a reasonable opportunity to protect yourself once you have retained counsel before federal agents take it upon themselves to make a decision to arrest you and proceed with full prosecution.
Hire a Federal Defense Attorney Immediately
A federal grand jury investigation is not like commercial litigation where you will receive a summons that a lawsuit was filed. Instead, government agents will come to your home and arrest you once an indictment has been issued on behalf of the department of justice.
Consult with defense counsel now.
Given the seriousness of receiving a target letter, it is best to call and schedule a face to face meeting in the event that there is active surveillance being conducted on your business, home, or communication devices.
Now that you know what a grand jury investigation target letter is all about, it's time to take action.
Use our secure form to schedule a meeting or call us directly. (949) 209-9477